Hey friends!
I know I haven't been posting lately, but teachers will understand me: that's the end of the trimester and I can't stop correcting tests, essays, etc… It's part of our job!
Today I'm posting another listening activity created by me, with the song Irreplaceable, by Beyoncé. It's suitable for pre-intermediate and higher levels, as it involves understanding of the linguistic context and text comprehension.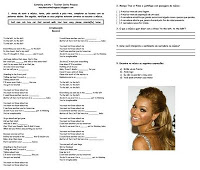 If you want this document in PDF format, click
here.
The instructions are in Portuguese.
If you are teaching pronouns, here is another worksheet I developed with the same song. The listening task is different, but the exercises on text comprehension are the same. Click here to download it.